Our Virtual School Community Page
This is the page where we will post all our families' contributions. We want your videos, photographs, examples of the great work being done - and especially, the fun things you've been doing while you can't come into school!
Minibeast Safari
The children of key workers who have been coming into school went on a mini-beast hunt around the school grounds. They searched under pots, moved pieces of wood and dug into the soil uncovering a surprising range of insects and other small creatures. Newts were found lurking in the pond, and the children were able to carefully handle and observe each of the mini-beasts before returning them to their natural habitat. It has been lovely to see these children working together from across the school.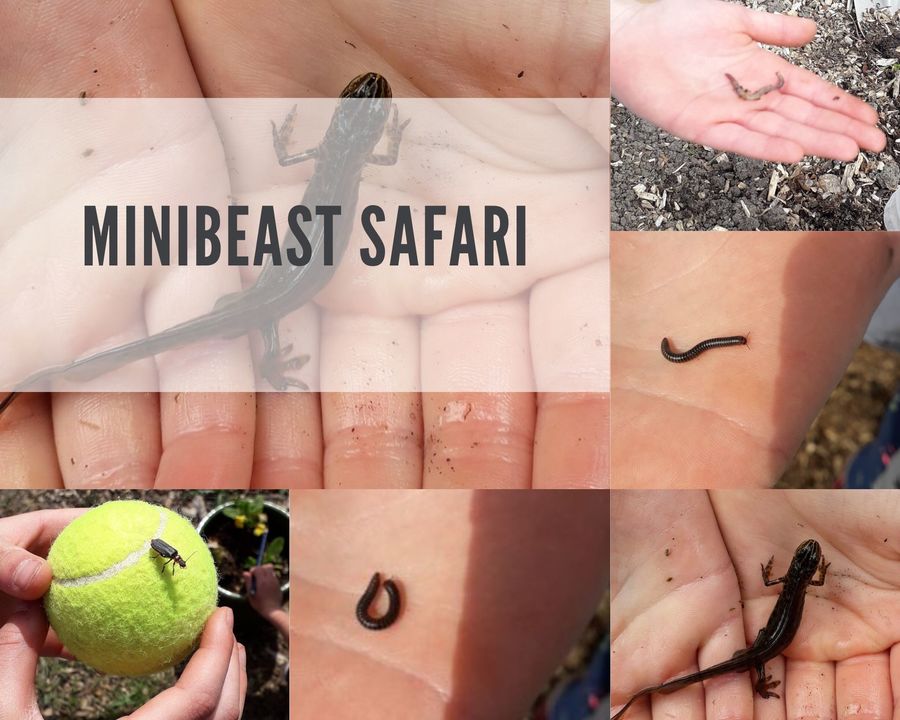 The Willows are growing beans...
Mrs Foster and Mrs Smith posted bean seeds to all the children in the class with instructions to start their beans off in jars or plastic bags so that the children could see the initial stages of growth, as roots and shoots began to push themselves out. Already some of the seedlings have been planted out into soil, with a good chance of thriving and growing in the sunshine. Each child is keeping a diary to record their observations - keep posting it with photos on Google Classroom!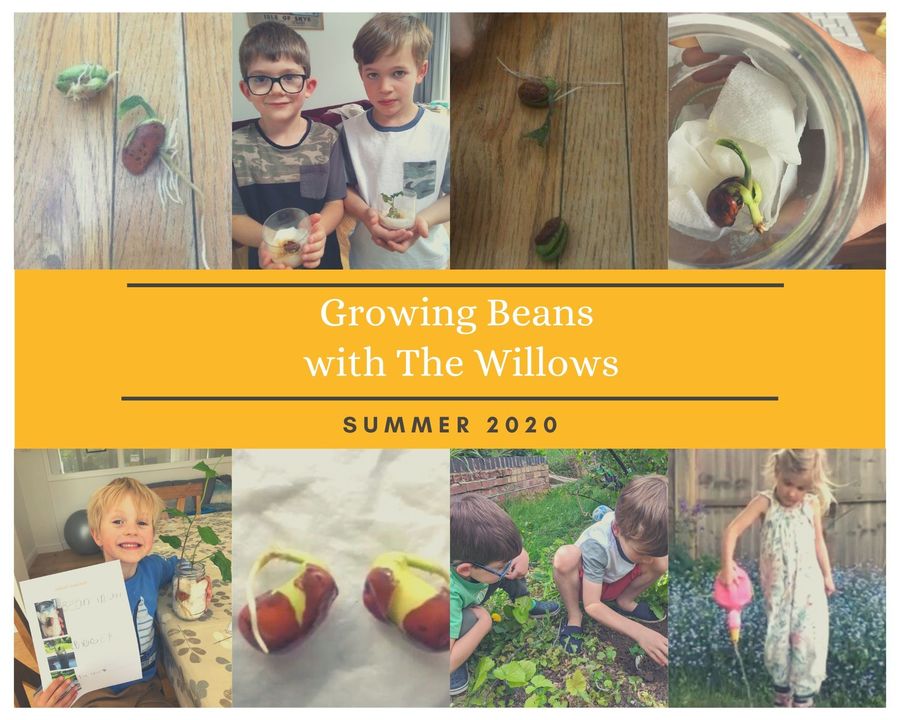 At the end of last term, we held an Art Competition with the theme of seasons - children were invited to send their drawings or paintings to Mrs Dollman who says:
"I am pleased to announce the winners of the St Paul's Walden "Four Seasons" Art competition which took place last term. Well done to everyone who took part. Congratulations to these budding artists for their amazing picture. The five pictures will be framed and hung opposite the community kitchen for everyone to admire."
The winners were Joshua, Cosima, Charlotte, Oliver and Carrie - well done and congratulations to you all!
VE Day - Lest We Forget
The Rowans were asked to do some research about V E Day which they could present in anyway they liked. Some children made a power point or drew a poster, others made bunting or an aeroplane and some baked scones or a cake without eggs, like they often had to in World War two. Click on the thumbnails to see Sami's aeroplane picture, Hunter's cake, some homemade bunting and other artwork.
Story telling
Children from Willows have been retelling the story of Jack and the Beanstalk this week in a format of their choice. If you have access to PowerPoint, it is well worth downloading this fantastic joint effort from Matthew's family.
First 'Employees' of the St Paul's Walden Pupils' Newsletter
Mrs Smith recently invited pupils to apply to work on a Pupils' Newsletter. Charlotte and Joshua are the first pupils to be appointed, along with Joseph, Lachlan, Finley J, Harry J and Ivy. The first newsletter will be coming soon!
Where's the sunshine gone?
Who cares, if you can make rain gauges instead?
Maths and Cooking - with musical accompaniment
Click on the photos to see our children in school baking and playing the piano...
What Is God Like?
The children in Oaks were given the challenge of thinking what God is like. They were asked to think of three word and then draw what they imagine when they think of what God is like. Here are some of their ideas.
Happy Easter one and all, from all of us at St Paul's!
Monday story time continues. Today's story is 'Ready Steady Mo' read by Finley
Cooped up
Not only have Henry and Arthur been extremely busy doing all their Google Classroom activities, they've just gone and rescued 6 ex-battery hens! Look at this video to meet Harry Potter, David, Reggie and the others.
Outdoor Cooking Lesson
The Jacksons have been keeping busy in their back garden and have made a rather delicious frittata! Have a look at the video, but please do not try anything like this without your parents' supervision and guidance.
Lucy and Chloe spent a long time decorating this gingerbread house - their effort was definitely worth it! Meanwhile the flower from the Willows classroom has bloomed. Let's all enjoy it virtually.
Spring Flowers Project
Isabelle couldn't decide which media to use for her Spring Flowers assignment, so she opted for everything! See her project develop below, with the stunning final outcome.
Children Together
Today Nathaniel, Leia, Hayden and Gabriel worked together in art to product this amazing rainbow.
Chick Chick Chick Chick Chicken!
The children were invited to create their own version of Mr Tumble's song 'Chick Chick Chick Chick Chicken' in whichever format they chose. Joshua was able to use real props in his video. Hayden, Gabriel and Nathaniel invented their own board game involving a chicken and a bunny, and it looks a lot of fun! Matthew and Joseph changed the words entirely and filmed a puppet show. Jack made a mask, and Isabelle evidently filmed hers just after Easter! Henry and Arthur...well, see for yourselves!
Well, you have started sending in some fantastic photos of the fun you've all been getting up to in the sunshine. There's dens, tree climbing, reading, painting, table tennis and DIY. Fantastic! Look at all the other pictures on this page too.
Mrs Dollman and Mrs Smith have been receiving some great work from the Rowan children on Google Classroom. If you haven't logged on yet, do have a go. It is great! We are letting each other know what we are doing at home and also posting photographs of Enrichment activities we are doing, as well as accessing work. Some children are posting videos of themselves reading a story to the class which we will show you. You can see Callem's story reading just below here. Mrs Dollman and Mrs Smith are able to see what learning you have completed. They are able to mark your learning and return it to you, so you can see how you have been doing.
Here are some photos that have been sent in of some Habitat boxes children have made at home. They chose their large habitats and then drew or cut out pictures of animals and plants to go inside them. If you haven't made yours yet, do have a go and let us see what you have made.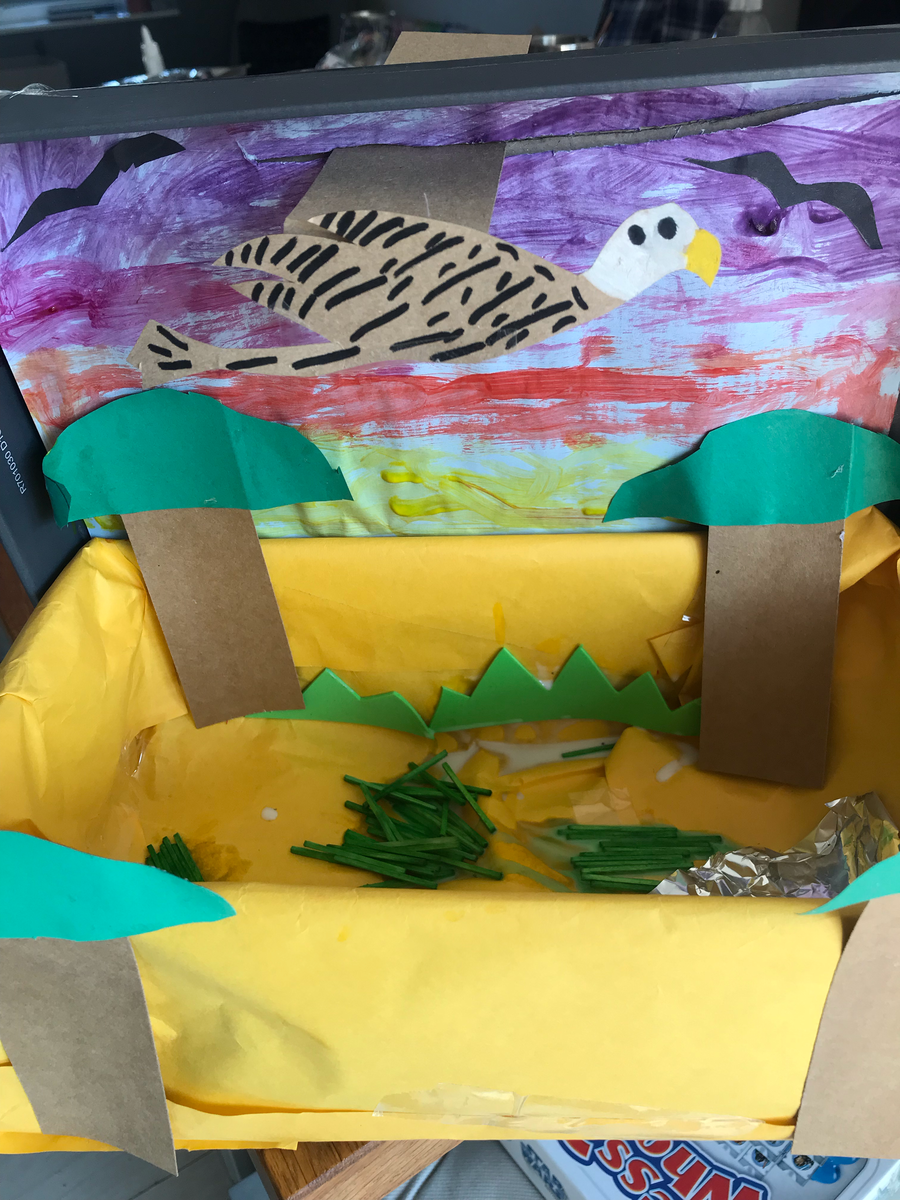 This is Sami's habitat box. His vulture is on a slider, so it can move across the sky.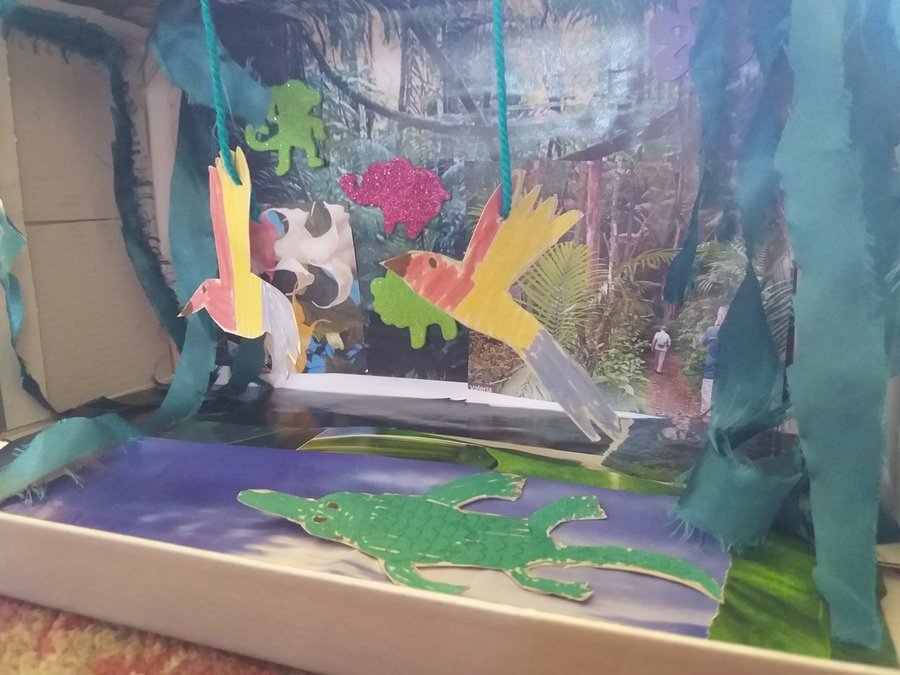 This is Billy's Rainforest habitat box. It has flying parrots and there is a crocodile in the river.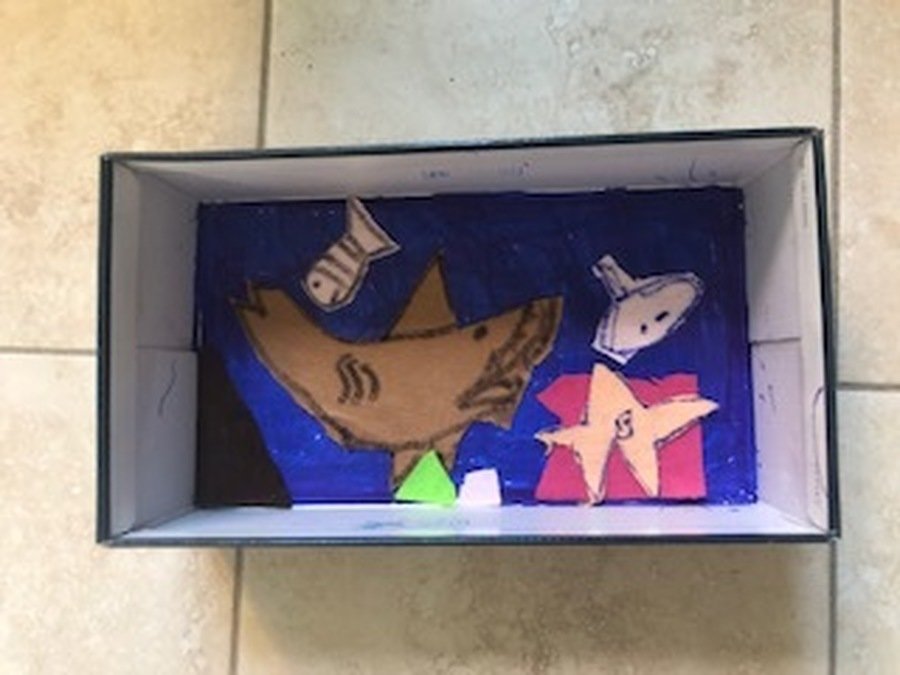 Here is Hunter's Ocean habitat box. Can you see what creatures he has in the sea?
One of the online activities is looking and drawing patterns. Here are some examples of children's work: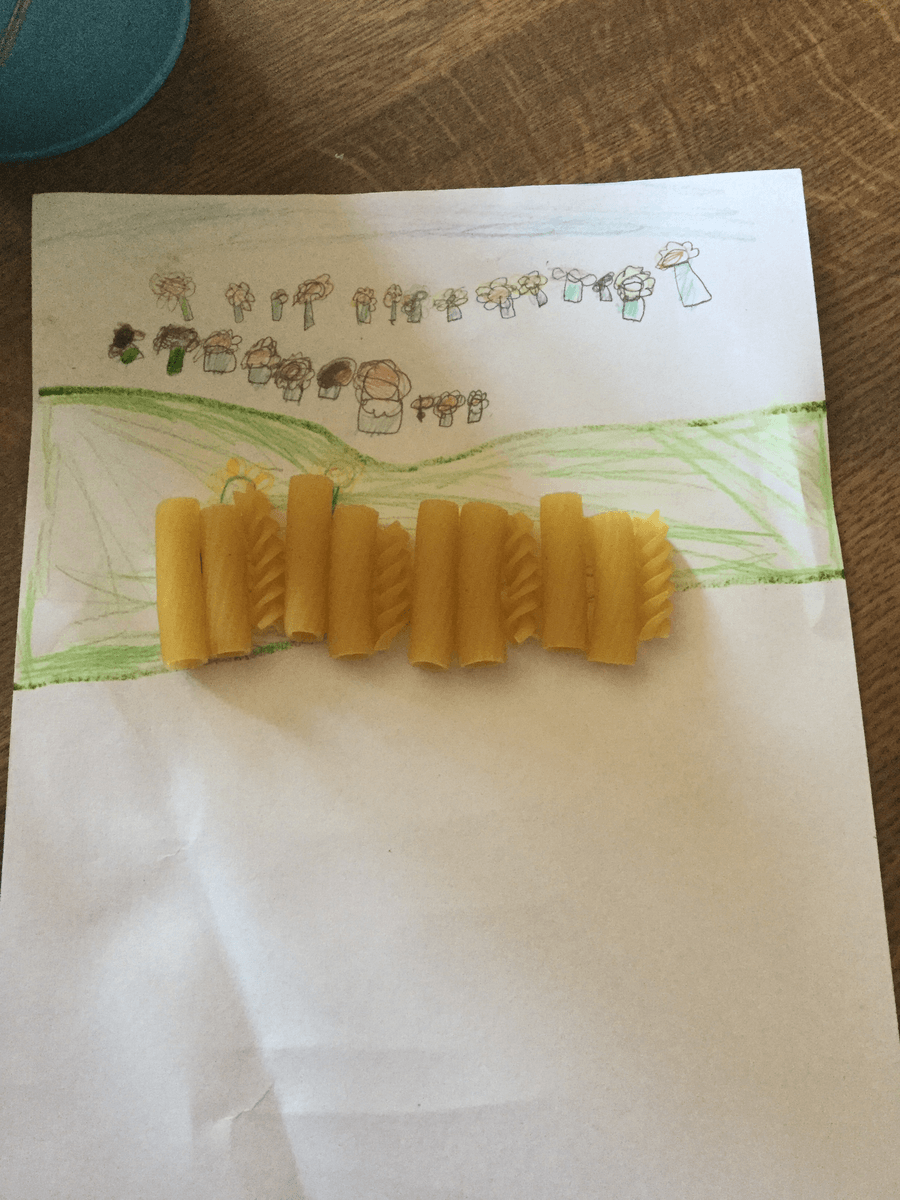 This is Ferne's repeating pattern using pasta.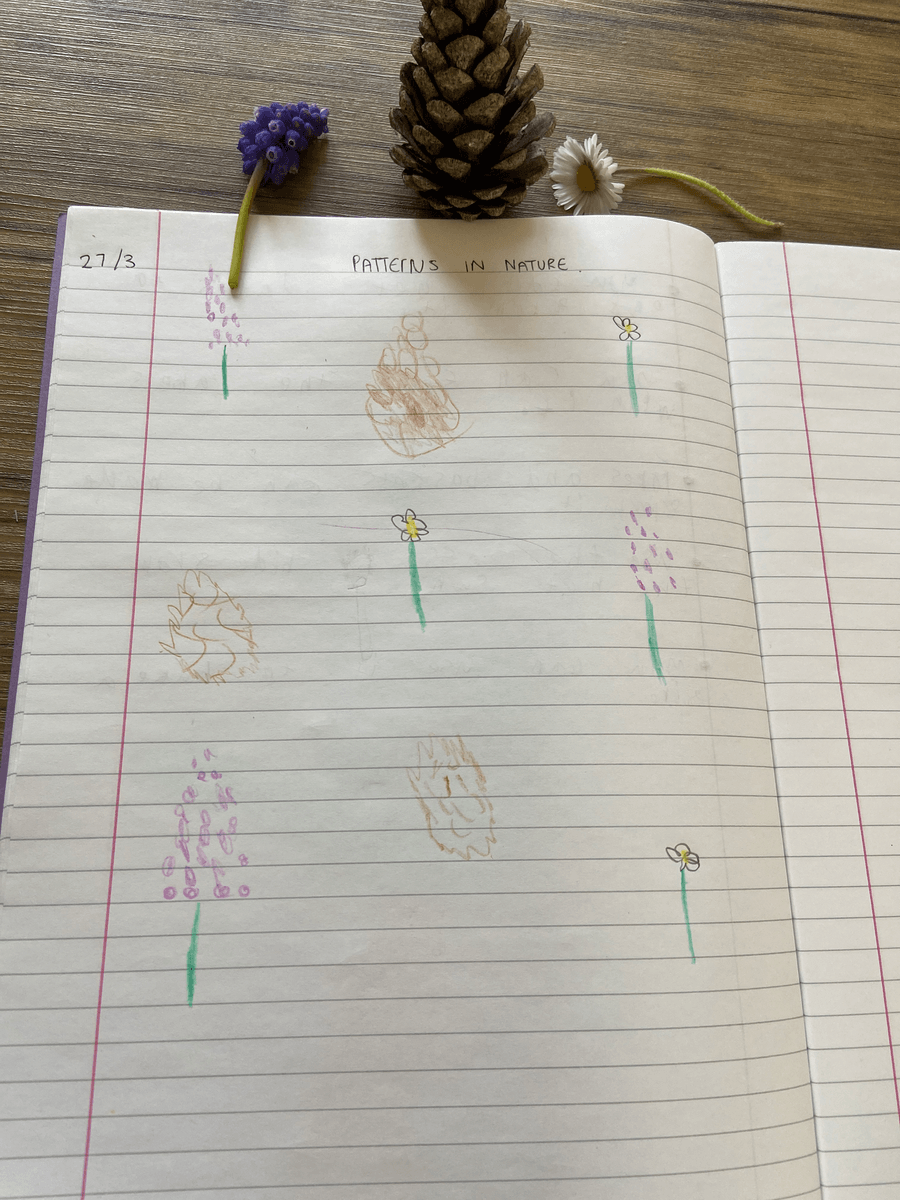 Here are Jaiden's drawings of what he found outside.
As we start our home school journey together, pupils were asked to record themselves reading their favourite story to share with their peers. Here is Callem's story, we hope you enjoy it :)
Super Silver Birch Work
The Silver Birches have been completing some wonderful work on Google Classrooms. They have enjoyed; doing a capacity investigation, which was a bit wet; writing about finding a woolly mammoth in ice; and researching information about Viking Gods. Children have been very creative in the presentation of their work, including videos, pictures and drawings. Keep up the good work! Children have also been learning a new skill. Mr Gallimore has been learning the bass guitar, while some of the children are learning how to; compete a rubix cube; improve their gymnastics; touch type; play the guitar; baking; British Sign Language; and many more!
We have also had some super videos sent on to show all the super learning the children have been doing! Check them out below!
Here is Charlotte presenting her book review:
Elana is learning to improve her skipping skills, here she is skipping through a hoop in slow motion!
Arthur decided to present his capacity maths work in a great way:
Wowee - your amazing work!
I have been so excited about all the wonderful pieces of work that the Willows children have been sending in via Google Classroom. It is really lovely seeing everyone keeping busy and productive over the last few days. I hope that you all have been taking advantage of the sunshine too, which has been a real bonus for us on this first week of the closure. Have a look at some of the work below to see what each other have been getting up to.
Your amazing work
I have been so impressed to see all the wonderful pieces of work that the Oaks children have been posting on Google Classroom. It is really lovely seeing so many of you being creative and imaginative over the last few days. Having great weather has given us an opportunity to do things outdoors as well as indoors, such as having picnics and flying paper aeroplanes. They have also taken time to produce some creative writing too. I asked the children to create reading dens or find an interesting place to read. Here are some of our pictures.