News and Photos from The Silver Birches
If your child is working at home during the school closure, please look at the pages under Coronavirus Closure, including our class's page, where Mr Gallimore will post tips and ideas just for the Silver Birches children. If you want to send in a photo, video or some examples of what you've been up to, we will post them on Our Virtual School Community Page
General Information
We are Silver Birches class and we are in Year 3 and 4. Our teacher is Mr Gallimore and our teaching assistant is Mrs Jeffs. We take great pride in our learning environment and we strive to be role models for others!
In Silver Birches, we love to learn in different ways and like to talk about our learning. We understand that learning is a journey filled with wonder and possibility. In our class, we use drama, talk and, most importantly, our imagination to inspire our writing; use resources and practical activities to support and justify our maths knowledge and we like to investigate and research new topics. We are working hard on our times tables, hoping to know them really well by the end of the year and we are also practising our super smart handwriting.
Homework is sent out on a Wednesday and due back in the following Tuesday. On top of the regular homework, please read with your child every day, noting this in the reading record book. Also, please help your child with their times tables.
This term we are trialling the use of Seesaw to log our learning. We will use it to record drama, save pictures, log work completed on the iPads and share our work with other children in our class. It is a fantastic tool to enable children to take ownership of their learning and for them to work creatively.
Please speak to Mr Gallimore if you have any questions or concerns about how Seesaw works.
This year we have some very exciting topics, trips and events planned and we cannot wait to share these with you so you can join in with our excitement.
Pop back to see some more of the wonderful work the children are doing.
Remembrance Day 11th November 2019
This year, for Remembrance Day, we created some art using the poem 'In Flanders Fields' by John McCrae. We first highlighted the words we wanted to keep from the poem that we thought were important to Remembrance Day. We then drew a poppy and coloured it in, leaving the words uncoloured.
Anti-Bullying Week 11th - 15th November 2019
For Anti-Bullying week we discussed how bullying can be stopped if we all make changes. Changes such as; being kind to everyone, including everyone in games, using kind words and being friends with everyone. We made a pledge and wrote it onto a foot to show we will Stamp Out Bullying together!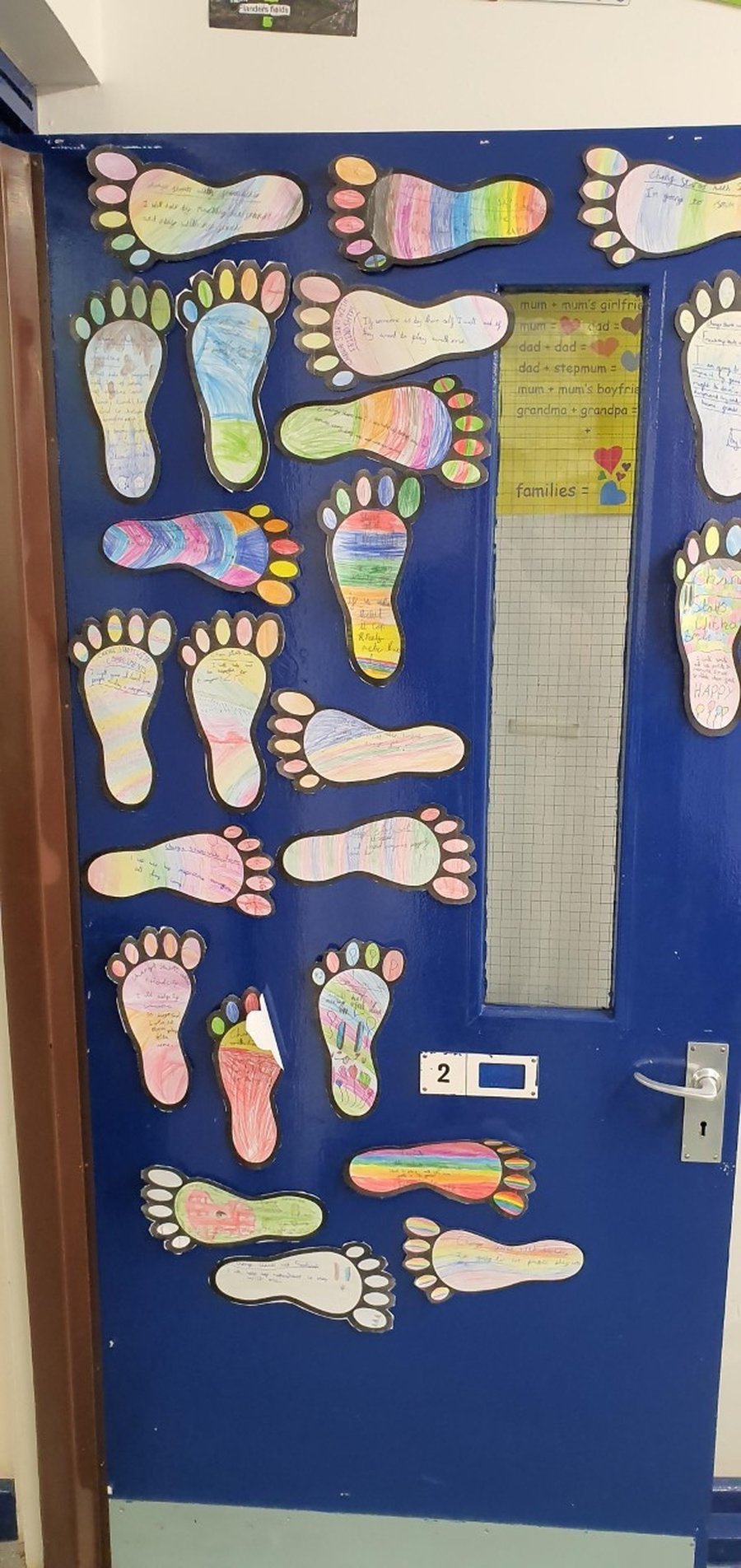 We also watched Life Vest Inside's 'Kindness Boomerang'. This showed us how kindness is infectious and it will always come back around. We discussed the video and how each person could have moved on without helping but chose to go out of their way to assist each person.
This term we have been learning:
about writing fairy tales from different perspectives. We first read the 'Real Story of the Three Little Pigs' by A. Wolf (Jon Scieszka). We discussed how the story differed to the one we had heard before. After that we looked at the story of Hansel and Gretel. We were very lucky to be visited by the witch from the story (played by Mr Gallimore) who told us her side of the story. We then wrote our own versions, with the witch as a good character and the children as the bad characters.
In Maths we had a brief recap on place value before continuing our unit on fractions. We explored equivalent fractions and comparing fractions with the same denominators. We did this by using packets of smarties to find the whole and ordering the amount of each colour.
Our geography topic this term is settlements. We first looked at the different types of settlements; hamlets, villages, towns and cities. We then designed our own buildings to create our display. We when discussed good and bad places to build a settlement, completing a writing task to explain why one area would be good and one bad.
In science we are investigating living things and their habitats. We have started by grouping different living things together, discovering there are many different ways to do so. We have also planned a invertebrate hunt which we will undertake next week, to find out the kind of micro-habitats they can be found in.
In previous weeks we have been:
very lucky to have the North Herts Museum Service come into the class to discuss our current topic of The Railways.
Cas, from the museum, talked to us about how Hitchin first looked, using models on the carpet to map it out. We then looked at how the trains arriving changed the landscape, as farmers began selling their land for the tracks and more people moved into the area.
We then looked at a painting from 1841, which showed some of the characters from the period. We found out what their lives were like before the railways and after.
using the natural things around us to create railway track sculptures in Art. We then used the iPads to edit the photos in a variety of ways, to improve them.
In Science, we looked at how our muscles work and their role in helping us move. We did an experiment to see how exercise effects our muscles and how they get tired.
In Maths, we have begun to investigate fractions. We danced on some paper, folding it in half each time the music stopped to show how although the denominator may get bigger, the actual size of the object gets smaller.
Homework this week is to practice list 4 of the spellings in two different ways, play the 'Division Facts' on https://www.topmarks.co.uk/maths-games/hit-the-button and to research a famous train to create a poster of. Please read at least 3 times a week at home as well.
Here is is some of the work we have completed this year:
Humanities:
So far we have learned about the UK and begun to learn about the Railways.
Maths:
We have been adding and subtracting mentally, as well as practising our times tables through a variety of games.
Science:
We have been learning about the muscles, skeletons and diets of a range of animals including humans.
Art:
We have been drawing, colouring and painting a range of landscapes.